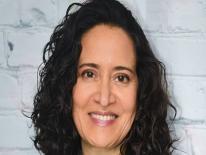 Gabriela's professional background includes both local and international economic development and neighborhood revitalization work with nonprofits, local governments, multilateral organizations, and university think tanks. She has focused on cooperative governmental-nonprofit projects; education and outreach to immigrant communities; and assistance to minority-owned businesses.
Before focusing on neighborhood revitalization in the DC area, she worked on international development programs at the Kellogg Institute at Notre Dame, the University of Maryland, The World Bank, and UnidosUS. She started her local engagement with Adams Morgan Main Streets, one of the first DC Main Street programs. More recently she ran a workforce preparation school for adult immigrants and conducted independent consulting.
Her community work includes serving as an Advisory Neighborhood Commissioner in Ward One and sitting on the boards of DC organizations focusing on poverty alleviation, entrepreneurship, housing, and voter participation including UPO and LEDC.
She's a proud Hoya. After receiving her BSFS at Georgetown University, she completed graduate studies in international development and cooperation at the Institute of Social Studies -The Hague and Universidad Complutense de Madrid. Gabriela is currently leading the Uptown Community Initiative, a local DC nonprofit.