Thursday, September 19, 2013
The number of trained experts will grow to nearly 200 in October.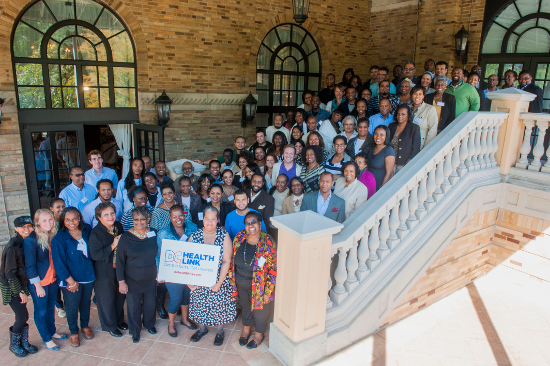 First graduating class of DC Health Link Assisters on September 16, 2013
Photo Credit: DC Health Link
District of Columbia residents who plan to sign up for health insurance through DC Health Link will be able to rely on the skills of a corps of trained experts to help them find health coverage that best meets their needs and budgets. This week, nearly 100 DC Health Link Assisters completed training and will be ready to help District residents and small businesses looking for health insurance when DC Health Link opens on Oct. 1.
The Assisters have completed more than 30 hours of comprehensive coursework and training in order to help District residents understand their rights and responsibilities under the Affordable Care Act and sign up for a health plan through DC Health Link. A second and final round of trainings begins Sept. 19 and, when completed, nearly 200 DC Health Link Assisters will be ready to serve residents and business owners.
"DC Health Link Assisters will be available throughout the District in community settings such as libraries, churches, and pharmacies to answer questions and help our residents and businesses apply, shop, and choose quality, affordable coverage," said Mila Kofman, J.D., executive director of the DC Health Benefit Exchange Authority (HBX). "Buying health insurance is an important decision that requires time, consideration and, in many cases, one-on-one assistance. These men and women, representing various organizations throughout the city, are making it their mission to find the hardest to reach individuals and help them enroll."
To be certified, Assisters had to complete successfully five full days of training courses, pass daily tests and a skills-based final exam demonstrating their command of knowledge from their coursework. The training courses included sessions focused on helping consumers understand their rights, benefits and responsibilities; how to apply for financial help to make coverage more affordable; and how to provide help in a culturally and linguistically appropriate manner. Assisters were also trained in privacy and security procedures to protect residents' personal information. In addition, all Assisters must pass criminal background checks – including fingerprinting – before certification.
The training, developed and provided by Whitman-Walker Health and Families USA, fosters collaboration between Assisters to create a sense of teamwork and shared mission with other DC Health Link partners. Assisters will work closely with DC Health Link certified and licensed insurance brokers who will be available to provide advice, including recommendations for specific health plans depending on a person's needs.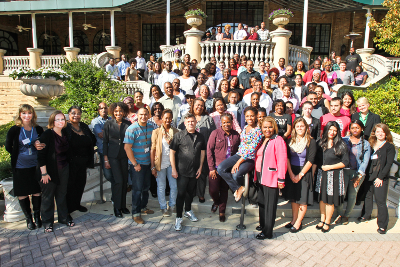 DC Health Link Assisters and Staff at the
DC Health Link Assister Training Program Graduation
at the Omni Shoreham Hotel on
Friday, October 4, 2013 in Washington, DC
Photo Credit: Paul Morigi / AP Images for DC Health Benefit Exchange Authority
In August, the DC Health Benefit Exchange Authority awarded grants totaling $6.4 million to over 30 community-based organizations to build on their relationships with uninsured and hard-to-reach District residents and small businesses. Organizations include members of the faith-based community, community-based health care providers, patient and consumer advocacy groups, civic organizations, cultural associations, and organizations focused on assisting those living with HIV/AIDS. Those organizations recruited the men and women who were trained this month as Assisters.
District residents and small business owners will be able to begin shopping for health insurance through DCHealthLink.com on Oct. 1. People who enroll and pay before December 15 will have coverage effective January 1, 2014. Open enrollment will continue through March 31, 2014 for individuals and families.